It doesn't matter what breed you have; all cats tend to lose hair from time to time, as it is a natural part of a feline grooming process. However, the amount of shedding will vary from individual breed to breed.
Some cat breeds are more prone to shedding compared to others. In this article, I will answer the question: Do Birman Cats Shed? And if yes, why so?.
We will also further learn reasons why Birman doesn't shed so much. In addition, we will also take a quick look at the tips and preventive measures that can help keep their shedding minimum in the seasonal shedding season.
Therefore, read on to learn more about the Birman cats' natural tendency to shed and the typical length and timing of their shedding cycle.
Do Birman Cats Shed A Lot?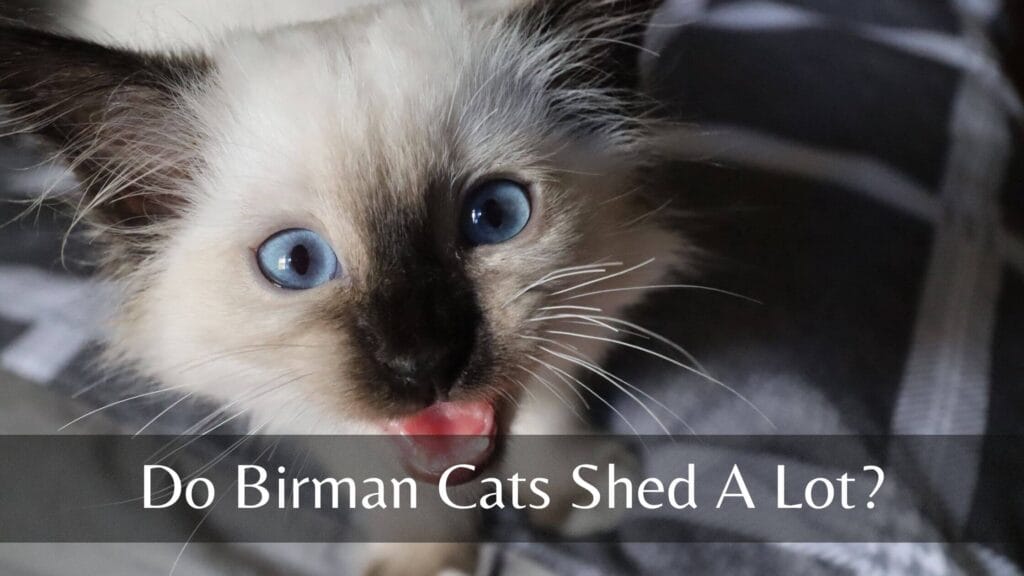 Yes, Birman cats shed, but less. They don't shed too much due to the lack of an undercoat. However, you will still have some hair to clean up around but not as much as with other breeds. In the shedding season, a Birman cat is likely to shed a bit as a part of grooming the seasonal changes.
One thing is very sure there is no such thing as hypoallergenic or nonshedding cats, including Birman. Now let's talk about how much Birman cats shed.
How Much Do Birman Cats Shed?
In the shedding season, Birman cats will shed small amounts of hair. The hair your Birman will shed depends upon their eating, genes, where they live, overall health condition, and how often they're brushed. Below are five reasons why Birman cats shed.
5 Reasons Why Do Birman Shed
Climate
The climate makes a significant change in your cat's shedding behavior. Therefore if you live in a place where the weather is always mild, your Birman cat is like you shed all year around. Although this will be pretty light-shedding, you will notice this.
Diet
Diet plays a massive role in keeping them healthy and how much they shed. The Birman cats need well-balanced, healthy cat food. It would help if you always went with the food that can fulfill all your cat's nutritional needs.
Ensure you are feeding your cat correctly because it plays a large part in your cat's coat health. Any Birman that is malnourished will shed more hair than it would otherwise.
Lifestyle
We all know that Birman cats are popular as household pets and are also considered indoor-only cats. Keeping your cat outdoors most of the time will get its coat dirty, promoting more shedding. Depending on your kitty's lifestyle, she may shed less or more.
Seasonal Changes
Seasonal changes play a massive role in the coat development of cats, dogs, and many other pet animals.
Although shedding is not so noticeable in Birman cats due to the lack of an undercoat during the seasonal changes, it is still likely for you to notice a little bit of extra shedding as fall approaches and again in the spring.
Central Heating
If you have heat in your room, where Birman spends most of her time, she will shed more often. In addition, a house that has a Central heating system will also promote more shedding in pet animals. This is because your Birman cat's coat will think it's summertime when it's not.
Also Read: Do Birman Cats Scratch Furniture? ( 3 Prevention Tips)
When is Birman Cat Shed?
Especially in summer, the Birman cat will shed more than usual. It is common to notice a Birman cat shedding a bit when spring approaches and again in the fall. They are likely to shed more in the summer month than in winter.
Even though Birman cats typically shed less than other cat breeds due to the lack of an undercoat, the climate will play its role. In the winter, your Birman needs to develop a thicker coat to keep their body warm, which is why they sheds.
Again in this summertime, especially when spring approaches, they shed most of their fur to keep their body cool in the summer months. Apart from this, in the summertime, you will notice much hair coming off every time you pet her.
Any Birman cat that has lived all the time indoors will lose track of the season, resulting in them not shedding heavily when spring or fall approaches. Therefore such cats will regularly shed all year around. Please take a look at some tips to help you control their shedding.
7 Tips To Control Birman Cat Shedding 
Grooming plays a massive role in keeping their shedding at a minimum. It is essential to keep your Birman cat well-groomed to prevent its fur from getting tangled up in knots or mats. Grooming will also help you remove dead hair and skin cells.
Consider getting a well-balanced diet for your cat. It would help if you also considered adding some supplements like fish oil and vitamins to improve the condition of your cat's coat & reduce shedding.
I recommend using a cordless vacuum to clean every corner of your home and keep shedding under control. It would help if you regularly vacuum your house.
It is essential to have a lint roller around if you own a Birman cat. Having one beside you will always ensure your clothes are free of fur when you go outdoors after handling your pet.
If you love cats but have allergies, it is advised to have an antihistamine in your drawer in case your allergies trigger.
Use a wet, damped rubber glove to rub on the furniture surface and remove any excess hair. The hair is likely to come off quickly this way.
Avoid keeping your cat in a room where the Central heating system is installed, or the heater is turned on.
I have noticed many people getting used to their cats and hair on their furniture and clothes. For me, it is one of the common traits of a person who loves cats. However, if your cat is shedding more than usual, it can indicate an underlying health issue.
It is advised to take note of any unusual symptoms along with shedding and be sure to get it checked by your nearest veterinarian. Below are the best ways to clean and remove cat fur from home furniture and clothes.
Best Way To Clean With Birman's Shed Fur Around Home
If you are looking for something that offers ease of use, you should go with the cordless stick vacuum. With this vacuum, you won't need to unwind the power cable and keep unplugging it as you move from room to room.
The cordless stick vacuum helps vacuum every corner of your household in about 10 minutes. I have used many types of emptiness, but the cordless stick vacuum picks up fur well.
As most of them come with the Hepa filter and are lightweight, it effectively prevents allergens from being blasted all over your home and back out.
Also Read: 5 Best Brush For Birman Cats: The Buyer's Guide
Best Way To Remove With Birman's Fur From Clothes
You can use a lint roller. Most people who keep cats can't even survive without this sticky creation. If you wear black clothing, this is a must to have. After getting one set of lint rollers, you need to buy compatible refills.
Do you know clothes are said to be a magnet for most shed cat fur? Fortunately, there is a lint roller to save you, which will remove all traces easily.
Ragdoll Vs. Birman Shedding
Birman and Ragdoll are almost similar in terms of many features. Both are easy to groom, trainable and lovely indoor pets. However, Birman has a thinner coat than Ragdoll, which sheds less. Ragdolls may shed a lot and even worse if not kept well. Birman cats are not high-maintenance and are pretty easy to groom compared to Ragdoll.
Should You Get Birmans If You're Sensitive To Cat Fur?
According to many sources and experts, we found many breeds recommended for people allergic to their fur. One such breed is Birman. If you are worried about being sensitive to their skin, you should know a few things.
First, Birman cats carry fewer allergens and shed low levels of Fel d1 protein in the fur, making them a perfect choice for people with allergies. This breed doesn't shed as much as other cats, so their skin is less likely to trigger allergies or irritate your sensitive immune system.
Which Cats Shed The Least?
Sphynx cats are the ones that shed the least amount of hair because they lack fur on their body. Most people think they are entirely bald, which is not valid. Their coat is skinny and delicate, which prevents tangling and clumping. Because of that, Sphynx shed a much lower amount of hair compared to any other cat breed.
You can also have many short-haired cats that don't shed much, but they're still challenging to care for. Even though some cats shed quite a bit, they are a lot easier to maintain if you are an experienced cat keeper or good owner who puts time into grooming your pet.
Conclusion
After knowing that Birman cats are known for being low-shedding cats, you shouldn't worry about your allergies. With minimal effort, you can keep their allergens to themselves. All cats shed to some degree, but the amount of shedding will vary from each individual to individual.
If you are considering adopting a Birman cat, ensure you are well-equipped and prepared to deal with some fur or light shedding.
Don't let this fact discourage you because Birman cats are beautiful creatures worth the extra effort. Following all the tips mentioned in this article, you can always keep your Birman cat shedding under control.
I have tried to give you all the information about Bermuda cat shedding. If you find this article, then consider sharing it.
Your one share will help many people know tips that can help prevent or keep their shed to a minimum. Check our other article on Birman cats care & guide; till then, take care and goodbye.