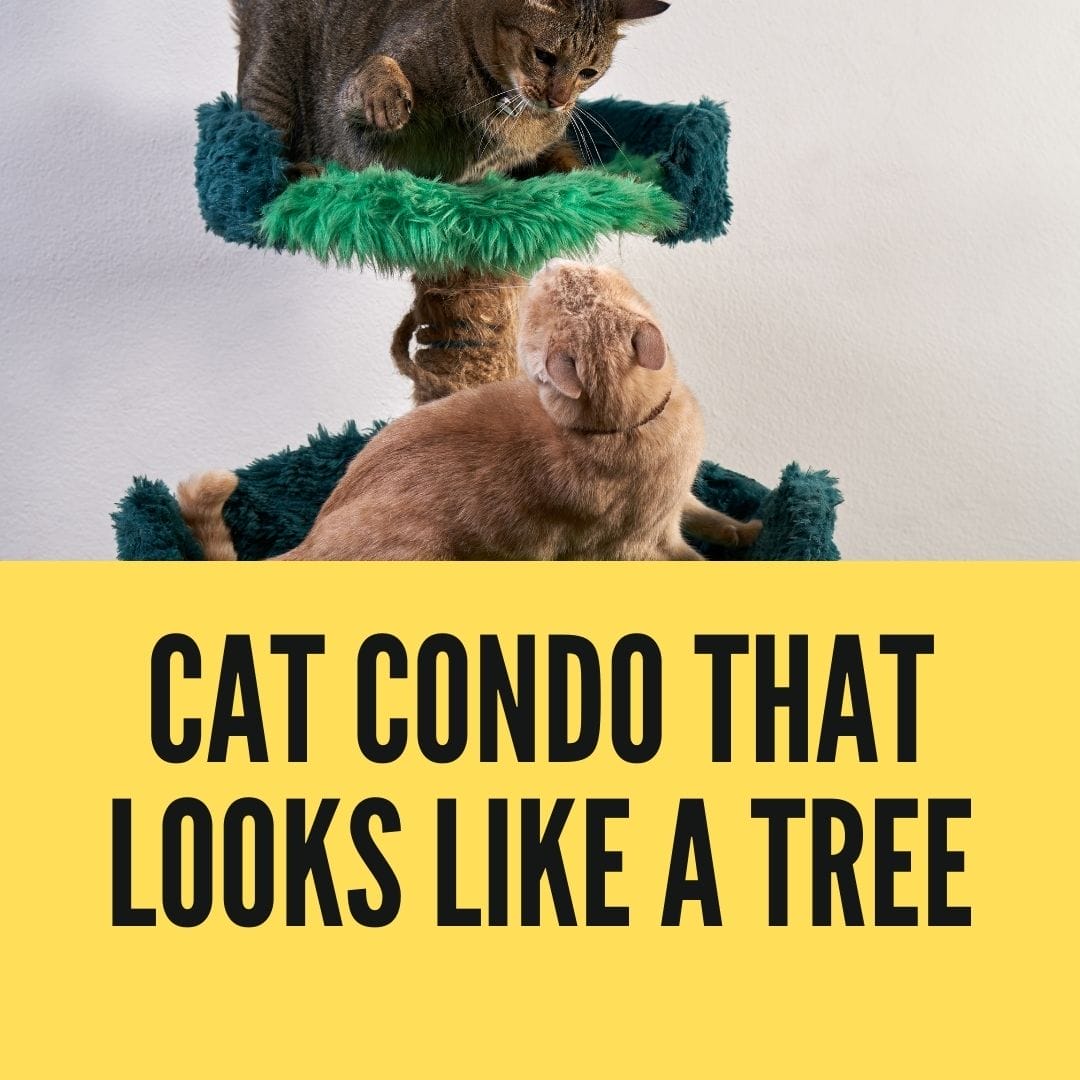 Cats make us feel that we only borrowed them from the wild. No matter how domesticated a cat seems like there is always an element of wildness lurking below the surface.
For many die-hard cat fans and pet cat owners, the wildness of a cat is part of the thrill of owning them. Owning a cat means giving them all the essentials they need.
Cats need tons of exercise and a space they can call their kingdom and domain. Hence, having a cat condo that looks like a tree is a piece of essential furniture you should get your cat.
A cat condo will help your cat exercise and have fun. Plus, if it looks like a jungle, your cat may just get to imagine, even for a moment, that they are truly in the wild.
What is a cat condo that looks like a tree?
A cat tree is the one structure that helps your cat fulfill many of its needs. A cat condo that looks like a tree is also known as a cat tower and has various structural features like slopes, shelves, boxes, stairs, and many others that can help with various cat activities from scratching, exercising, playing to relaxing, and sleeping.
Cat trees are available in different heights and cater to different cat preferences.
In some instances, cats can be domineering, and they prefer tall majestic cat "trees" that can help them to keep a watch over their 'territory'.
They prefer these tall ones over comfortable ones. Some cats, on the other hand, prefer trees that provide them a secluded, sheltered corner for solitary time.
Cat condos can be made of any material, but they are often made of sustainable materials like wood or plank and are generally carpeted with a softer material.
Rough materials like sisal ropes are commonly used to protect elevators and some exclusive corners to induce scratching. This saves the rest of the tree from the wear and tear that scratching can cause.
Cat condo that looks like a tree is sturdy furniture, specially made for your cat. It is interactive and helps them engage in activities throughout the day. Cat trees also provide them with privacy and shelter they can call their own.
There are complicated advanced versions of cat trees that can be very interesting, and their types include wall mounting, luxury cat trees, and even personalized ones.
Why does your cat need a cat condo that looks like a tree?
As mentioned, cats are wild, and wild cats need an occasional "me" time. Unlike dogs, cats are not as social. There will come a time that they may become bothered by human company.
Cats need to have their personal space. A territory that they can call their own, one that even humans can't use.
The need to have their own space is an inherent psychological need for cats and gifting them a cat tree helps them have a place where they can not only brood but also rest and sleep and also have fun!
There are many cat trees in exciting versions that help your cat receive the necessary stimulation that their body and mind need.
Interactive cat trees can help the cat stay active and can keep it engaged for long periods, which is ideal when you are not around.
Besides having their own territory, and a place for entertainment and exercise, these cat trees can also serve as an ideal way for multiple cats to be at peace with each other.
Cats by nature don't like sharing, but cat trees have several levels or perches, and each cat can mark their own territory and exist in peace.
Cat trees are also crucial because cats tend to be timid and anxious. These trees give your cat a sense of safety and security and a place where they can be away from unfamiliar creatures and scents.
Plus, your cat feels like a true king or queen as they have a clear view of their surrounding from the top, and this makes them feel in control!
The Purrrfect cat condo that looks like a tree for your cat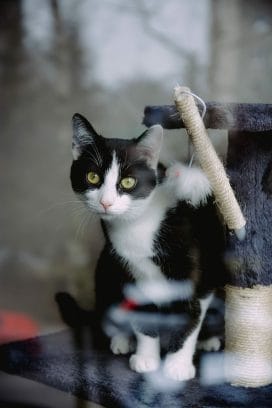 There are an unbelievable variety of cat condos available, and you should know what is best suited for your own space and for your cat's personality.
What kind of interactive tree does your cat want?
Is your cat the type that only needs space to brood and scratch or does it need a structure to expand its playful and compulsive nature.
The type of cat condo that looks like a tree you should choose should correspond to your cat's age, weight, and activity level.
Make sure the perches and ladders are able to hold your cat's weight, and your ball of fur can fit into those interesting caves and holes.
Cat Condo That Looks Like a Tree Furniture Recommendations
Apartment or small living space
If you have an apartment cat that likes to sleep all day near a window while basking in the sun, a cat perch may be the right choice for him.
A cat perch is ideal for small areas as it securely attaches to any window, and doesn't require permanent installation. Condos that feature cubes are also great for small apartments.
By featuring hide-and-seek crevices, plush toys, and plenty of space to lie down and relax, this portable piece of kitty furniture will become your cat's favorite place in your home and on the go.
Home or large living space
If you have a larger space and a spacious home, you can have a more complex condo. You can also choose a condo to satisfy a more active cat or a multi-cat home.
You can choose a cat condo that features perches at different heights that are perfect for the eager jumper or the lazy, relaxed sunbather.
Your cat will entertain himself for hours while recreating the prey-hunt scenario with dangling toys and scratching posts before retreating into one of the two kitty dens for his catnip.
Outdoor living
If you have a large yard, you can likewise install a cat condo in your outdoor living space. Choose a cat condo with a shelter to protect cats from wind, rain, snow, and sun.
Some outdoor cat condos feature a dome that creates a waterproof environment to keep your kitty warm and dry, while the carpeted floor gives them a convenient scratching place. Your floors and furniture stay protected while your pet has a comfortable space to call home.
3 Top cat condo that looks like a tree
[wp-review id="149″]
Runners Up
[su_service title="On2Pets Cat Condo" icon="icon: star" icon_color="#2D3092″ size="32″ class=""][/su_service]
Product description:
Looks may fool you. On the outside, it looks like a simple, decorative shrub. But look closer and the behold-that pretty plant is actually a cat tree!
This cat condo that looks like a tree has two levels of carved wooden platforms. It is canopied in verdant leaves, the perfect cover for your little hunter.
The base is covered in artificial turf, adding to the illusion and feeding your pet's innate nature to hide.
This is a great alternative for cats who love the outdoors but prefer the safety of being inside. This realistic cat tree will give your furry friends the security it wants. It is also a great place to take a cat nap.
Easy to assemble and simple design ensures that the On2Pets condo will fit, in size and esthetics, in any room of the house.
[su_row class=""] [su_column size="1/2″ center="no" class=""][su_box title="PROS" style="noise" box_color="#115F23″ title_color="#FFFFFF" radius="8″ class=""] ✔️Cat tree house intended for indoor use ✔️fits great in any room ✔️Made from pressed wood, carpet, and artificial leaves ✔️great for cats' innate instinct of hiding within nature ✔️Easy assembly [/su_box][/su_column] [su_column size="1/2″ center="no" class=""][su_box title="CONS" style="noise" box_color="#B20010″ title_color="#FFFFFF" radius="8″ class=""] . ❌No negative reviews so far . [/su_box][/su_column] [/su_row]
[su_service title="BEWISHOME Multi-Level Cat Tree Condo" icon="icon: star" icon_color="#2D3092″ size="32″ class=""][/su_service]
Product description:
This cat condo that looks like a tree is fit for a king or queen kitty since it is of good quality plush material, giving your cats a soft and comfortable touch in their estate. Each piece is cushioned, including the perches and spacious houses.
Scratching posts are made of sisal, while the jingly balls will provide a lot of lounging room and fun to your kitties. They can watch birds and squirrels on the perches, take a nap in the condo, jump up and down, play with toys, or explore around in their castle. Solid construction with a balanced design and strong base ensures your fur babies will be safe as well as have fun from this cat stand. The cat climber in light grey color will also match the furniture in your room. It will be a great tree for all size cats. This new castle will be something your cats will adore
[su_row class=""] [su_column size="1/2″ center="no" class=""][su_box title="PROS" style="noise" box_color="#115F23″ title_color="#FFFFFF" radius="8″ class=""] ✔️Roomy and enjoyable ✔️Sturdy and stable ✔️Quality plush covering ✔️Easy to assemble ✔️Nice looking [/su_box][/su_column] [su_column size="1/2″ center="no" class=""][su_box title="CONS" style="noise" box_color="#B20010″ title_color="#FFFFFF" radius="8″ class=""] . ❌No negative reviews so far . [/su_box][/su_column] [/su_row]
The Importance of Play for Cats
Play makes them feel like predators
Cats are wild and are made to be killing machines. Believe it or not, these felines have been hardwired to torture their prey to the brink of death. In fact, this is one of their favorite extracurricular activities.
Cats have been domesticated, though, so they have more or less abandoned their gruesome nature, but they would still want to be predators. You can make your cat active by playing with them for several minutes a day. Help them play with a type of toy that behaves like prey. Make sure it scurries away from them and attempts to hide. In the end, let them catch it. Make the prey tangible so they can touch it and feel it. You can even hide the toy in their cat condo that looks like a tree, so they will have fun climbing and jumping for it.
Play is exercise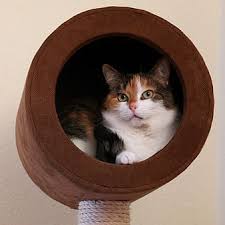 Cats have a sedentary life, and nearly 50 percent of cats are overweight. Much like humans, many cats overeat and lead inactive lifestyles, which contributes to obesity-related health problems, such as arthritis, diabetes, and poor grooming habits.
Increasing your kitty's physical activity can help her shed unwanted pounds and get back to her normal weight. A
Cat condo that looks like a tree can help your cat exercise because it is made up of posts and pillars, and multi-level perches where they can jump and play on. Increase the activity by hanging small toys that resemble and squeak like prey.
Play relieves boredom
The feeling of boredom can be unbearable. Imagine your cat feels the same. As a responsible pet owner, you don't want your cat to feel bored.
Since time moves differently for them, what may seem like hours of boredom would feel more like weeks with nothing to do.
Play provides vital mental stimulation for your kitty by allowing her to exercise her cognitive and motor skills. To make it even more challenging, use a variety of toys to play with your cat — but never use your hands, as this can cause your cat to develop unwanted aggression toward them.
Final thoughts
Your cat is an animal that is wild and mysterious. Domesticated cats still retain their wild instincts that need to be satisfied. A
Cat condo that looks like a tree is perfect for cats who need some solitary time and a high perch to jump on and feel like the king of the jungle.
Plus, cat condos provide them with tons of activities that can keep them fit and away from boredom.