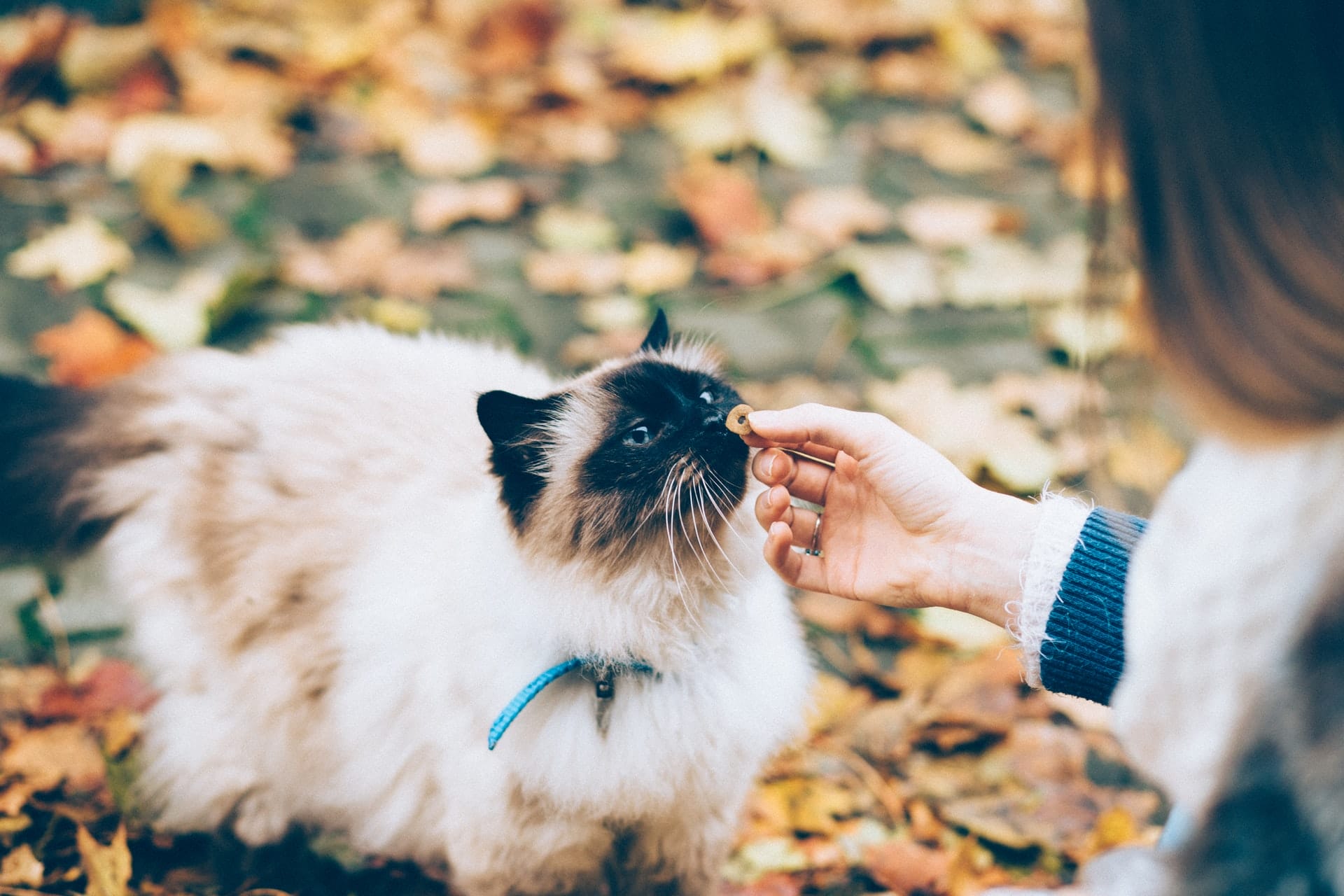 Although Birman cats are mostly indoor felines, it's still a good idea to put them on a collar. Aside from a sign of ownership, getting your cat used to restraints is essential, so you won't have a problem whenever you have to bring it outdoors. However, cats tend to be reluctant to wear a collar at first. With this, I decided to list the best collar for cats who hate collars, so you no longer have to dive into the market with tons of options.
Here are my top 3 picks in a nutshell:
[table id=7 /]
---
Cat collar vs. dog collar
I can't count how many newbie pet owners have asked me if they can use a dog collar for their cats.
If you're also wondering, the answer is both yes and no.
Let's start by differentiating the nature of dogs and cats. First, cats love exploring around. Whether it's an outdoor or an indoor cat like Birmans, felines love climbing and squeezing through tiny spaces. Such an adventurous nature makes them more prone to accidents. Their collar may get tangled on an object, which will get them stuck or, worse, impede their breathing.
This is the very same reason why there are so-called breakaway collars. These are specially designed for cats since it comes with a quick-release fastener. Your cat just has to squeeze the tabs on the buckle to release the collar. In a typical struggle, a cat can easily do this.
Meanwhile, you wouldn't like this feature on a dog's collar. A dog's collar must be secured at all times so they won't escape your lead. Basically, a cat and a dog's collar differ on the type of buckle used.
But you said yes earlier? Yes, you can use a loose dog collar on your cat in an indoor setting. It's also useful when bringing your cat to a place where pets are required to be leashed.
Aside from that, cat collars are usually thinner, especially for those with thick fur.
---
Benefits of putting a collar on your Birman cat
✔️It won't be tagged as stray. It's an unwritten rule for many that if the cat doesn't have a collar, it's likely a stray animal. If an unknowing person saw your kitty, they might take it home and not report it to a local shelter. A collar with an ID will help prevent this from happening.
✔️It can be a lifesaver. If your cat has specific medical conditions, you can put it in the ID portion of their collar. This will help a lot if you are leaving your cat to a groomer or boarding them if you have to go out of town. Also, the people around will know what to avoid when interacting with your cat.
✔️It makes them more visible. Cats are nocturnal beings, so they tend to wander at night. If your Birman happens to be on the road, a reflective collar will keep the pooch visible. It will prevent accidents.
✔️It separates them from other cats. Imagine a room full of Birman cats. Even though you know your pet well, it will be hard to pinpoint, which is which if yours don't have a collar.
---
Considerations when choosing a cat collar
To find the best collar for cats who hate collars, you must consider the following aspects first:
Wandering potential of your cat
The good thing with Birman cats is they are home-bodied cats. They are not known wanderers, but you can't always take chances. You should observe your pooch and see how much it tends to wander off.
For cats that love to explore, you should get a breakaway collar. A GPS cat collar is also advisable, but some kitties who don't like wearing bulky collars will try to get rid of it.
The medical condition of your cat
If your cat has breathing problems, it may not be a good idea to put them on a collar. Also, if your pooch has health issues like diabetes, hypothyroidism, kidney problems, and so on, I recommend having it engraved on the customizable tag. This will let other people know what to avoid and what not to feed your kitty.
Sizing is everything
Whatever pet accessory you're buying, sizing is very important. Birman cats aren't very large canines, but they may appear thicker due to their fluffy fur.
Always measure the neck girth of your cat and add a buffer in case your feline will grow fatter. I recommend looking for a breakaway collar with adjustable size, so you're less likely to get a dud piece. Aside from that, you must check the individual sizing chart of the brand as each manufacturer uses different metrics.
Look for a breakaway feature
Regardless of your cat's breed, I always recommend a breakaway buckle for the collar. This is a safer choice because cats can easily strangle on a dog's collar.
The RSPCA or the Royal Society for the Prevention of Cruelty to Animals in the U.K. has warned about sparkly collars with faux gems decors. As much as these fancy collars look good on your cat, its design doesn't have a snap-open buckle that a cat can remove without human help.
Aside from microchipping, breakaway collars should be the only option for your feline.
Comfort is paramount
Some cats find collars uncomfortable, which is the reason they will try to get rid of it. If your Birman is still removing its collar for several weeks, it's worth checking the size, material, and construction. Something might be bothering them, thus the reluctance to wear one.
Visibility is a must
Cats love exploring around, and yours may find itself on the road after dusk. In this case, a reflective material will be a lifesaver. Such a feature is also useful if your kitty loves hiding in dark parts of your home. This will prevent someone from stomping on the cat's tail.
Get a small bell
Large bells are very irritating. Aside from its bulky size, the loud noise will also annoy your cat. This will be a reason for them to get rid of the collar. No matter how you love the sound, stick to a small bell.
Consider an added identification
Tags and identification attachments are small additions that play a big role in your cat's safety. It will help you reunite with your pet if ever the pooch got lost.
---
3 Best Collars for Birman Cats Who Hate Collars
MY #1 CHOICE
---
RUNNERS-UP
[su_service title="Blueberry Pet Breakaway Safety Collars" icon="icon: star" icon_color="#2D3092″ size="32″ class=""][/su_service]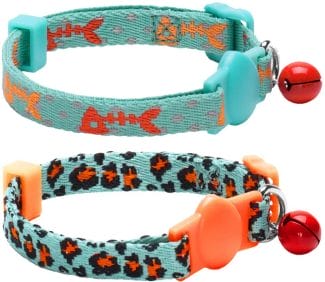 If you're looking for a cat collar with a small bell, I swear by the Blueberry Pet Breakaway Collar. This is the current collar that my cat Onyx is wearing, and he seems pleased. It's made of high-quality polyester, which is gentle on the skin and fur.
Aside from its snap-open design, it has an adjustable length between 9 and 13 inches. It's 3/8 inches thick, which is ideal for the likes of Birman cats with substantial fur length.
It's available in different color patterns and designs, which breaks the monotony of other collars. I got the leopard and fishbone options, which look really good on my pooch. There are also options where you can have your number and pet name embroidered on the strap. There's even a ribbon design that I got for special occasions when I can bring my cat with me.
The best part here is you'll get two collars in one purchase. You can keep the other one handy in case your kitty lost the first one. You can also give it as a gift to another cat owner that you know.
---
[su_service title="Rogz Catz Breakaway Collar" icon="icon: star" icon_color="#2D3092″ size="32″ class=""][/su_service]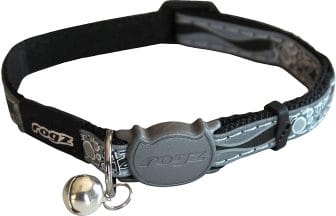 Another collar that I recommend is the Rogz Catz Breakaway Collar. This one has a snap-open buckle that your cat can easily remove during emergencies. It's also equipped with a removable bell that's small enough to remain comfortable.
If you don't want the bell, you can remove it from the D-ring. When I got this collar for my Birman cat, I removed the bell and replaced it with a GPS tracker. Both work well, depending on your needs as a pet owner.
Like most breakaway collars, this one is adjustable from 8 to 12 inches. It's 3/8-inch wide to suit cat breeds like Birman, who have thicker fur than other felines.
For added safety, there's a reflective layer on the outside of the strap. It's made comfortable, so your kitty won't struggle to remove it each time you put it on.
The bonus part is that these collars are available in different designs. All the base colors are gray due to the reflective material, but I don't see it as a problem.
---
Frequently Asked Questions
Q: Should I let my Birman cat wear a collar all day long?
A: Some cat owners take the cat collar off at night so the pooch can sleep better. One common problem with letting your pet wear collars non-stop is that the fur around the neck may become matted and that parasites may harbor on the area as well.
Q: Why is there a bell on most cat collars?
A: The bell on the collar of your cat isn't just meant to announce its presence. It's actually a useful tool that warns wildlife, mostly birds, that your cat is around. This prevents from preying on birds in your garden, especially if you have a bird feeder set up.
Q: Should I consider getting a GPS collar for my Birman cat?
A: While Birman cats are mostly indoor felines, it will be an excellent choice to put a GPS collar or tracker on them. This is advisable if you are working and leaving the kitty alone. There's still a possibility that they may wander off and get lost in the neighborhood.
Q: Why is my cat always trying to remove the collar?
A: It's normal for cats to get uncomfortable on a collar for the first few weeks. You should let them adjust while ensuring that the collar has the right tightness and fit. Also, you can take the bell out in the meantime if it seems to irritate your feline.
Q: When should I put my cat on a collar?
A: Regardless of the breed, you must wait for at least five months before putting your cat on a collar. At this age, your cat's neck is stronger. Also, at five months, your cat will be bigger and more mature in size.
---
Final words
Every cat owner should consider getting the best collar for cats who hate collars to keep their pets safe. It might be a small accessory, but it will be a lifesaver for every curious kitty.
What do you think of the collars I reviewed here? Let me know below!